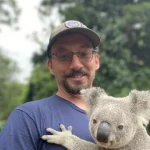 "Thank you so much for choosing Black Koi Water Features for your pond project. We take great pride in delivering an exceptional experience to each of our homeowners. If we knocked your project out of the park, please consider leaving us a review about your experience. Your feedback will help future clients get a better idea of our partnership. Thank you again!"
- Joe Zawistowski, Owner of Black Koi Water Features
Read what our satisfied clients had to say about us, get some insight into how we do our work, and see what you can expect when choosing us as your pond company.
We inherited a water feature with our home and it's been a big learning curve to care for it, repair, and maintain it! It's smaller and I've had a lot of trouble finding a contractor to come out to help us out. Lots of them don't think it's worth the trouble or try to talk us into a 20k rebuild of our very small pond. I am so grateful for black koi water features! They've always been honest, worked with our budget, and are timely and so professional. They worked with our budget to redo our water feature and made us a new waterfall. It recently started leaking and they fixed it under warranty, making several trips out to do the job correctly. Highly recommend this company! They've been so easy to work with and truly a pleasure.
Joe and his crew were phenomenal! They made a lifetime dream come true with the installation of a pond and waterfall. From the initial consult, Joe made an impression with his vision and provided ideas that incorporated my thoughts. The end product exceeded my expectations, I am beyond pleased and excited.
Great Company! Great Owner! Great Team! Loved the work!
Jason Allen (Jay)
2021-07-23
Amazing environment, epic points of view, and awesome personnel!
gary romanstine
2021-07-18
We had an existing water feature that I was not pleased with. As a matter of fact I considered it an eyesore and mosquito pit. Joe and his guys designed and created the most beautiful water feature that I could ever imagine the artistry is amazing. He created a little mountain stream that looks completely natural with flowers and plants. I would highly recommend his work and his creations
The exquisite waterfall Joe created for me is a masterpiece❣️ 💦🤗💦 Joe listens to what you want, communicates as he & his crew work extremely hard & delivers❣️The entire experience was happy & exciting❣️
We needed a pond rehab for a water feature the old owners put in over 15 yrs. ago - all we knew was that it was dirty & mucky and leaked. Joe at Black Koi came out to consult and came up with a plan to drain & clean the pond as well as construct a new water fall feature to add back water flow. Let me say that things didn't go as planned, requiring some quick and flexible thinking from Joe to set the old system to rights. The pond tuned out great!, and within budget! We're also thankful for Joe's patient coaching on after-care -as first time pond people, we know next to nothing. We'd recommend Black Koi for this type of cleaning/maintenance work but also for the more fancy projects my friends are considering, like recreational ponds and swimming ponds - that's in our future too!
Vanessa Underhill
2021-05-20
I always dreamed of this and Joe made it a reality. I LOVE our swim pond or as Joe calls it a recreational pond. It is truly impressive the work he put into this from the deign to completion. People said get a pool... I just could not. I mean no pool is as memorable as this. At night with the tiki torches it is heaven too. My grand kids have 2 jumping rocks they jump off into the pond. I LOVE eating under the pergola listening to the waterfalls. No horrible chlorine feel or smell. Truly a piece of heaven on earth. Joe has a gift, vision, love whatever you want to call it. I am so grateful how it turned out and LOVE everything about it.
Joe built our natural pool and it is absolutely breathtaking. He was professional and punctual. He went above and beyond to bring to life what we wanted. Im not able to easily visualize how a space will look and Joe even knew what boulders he was going to place where. His level of creativity is absolutely unreal. He delivered beyond our expectations and on time. We plan on using him again for future projects for sure.
Landrum Veterinary Hospital
2021-03-12
Wonderful service from the guys at Black Koi. They made the pond at our office look new again. Thank you so much.