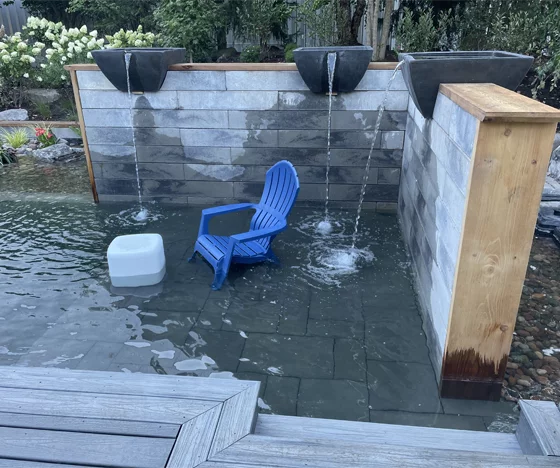 Dive Into The Possibilities Of
A Recreation Pond
There's nothing quite like taking a refreshing dip in a cool pond on a hot day. Life is too short to be content with just admiring the beauty of ponds from afar! 
Dive in and explore the endless possibilities of having fun in nature's water playground! Start making spirited memories today and explore the magical world of swimming and relaxing in your very own pond.
Here are our most popular upgrades for recreation and swim ponds:
Make your pond feel more luxurious with a custom waterfall.
Add to the calmness of your pond with a fountain perfect for cooling off and admiring.
Create the perfect place to enter your pond and soak in the water.
Include lights in your pond so you can swim and enjoy the water no matter what time of day it is.
Create more circulation in your pond with a built-in jet system.
Sitting Areas And Tanning Ledges
Design the perfect area to relax or tan around your pond with a sitting area or tanning ledge.
A recreation pond is a perfect way to bring joy into your life without all the stress that can come with other outdoor activities. Imagine having a beautiful centerpiece in your backyard without worrying about constant upkeep.
To be able to spend more time celebrating and spending meaningful moments with family, friends, or even just oneself is invaluable. The beauty of a recreation pond is that it requires little maintenance for maximum enjoyment.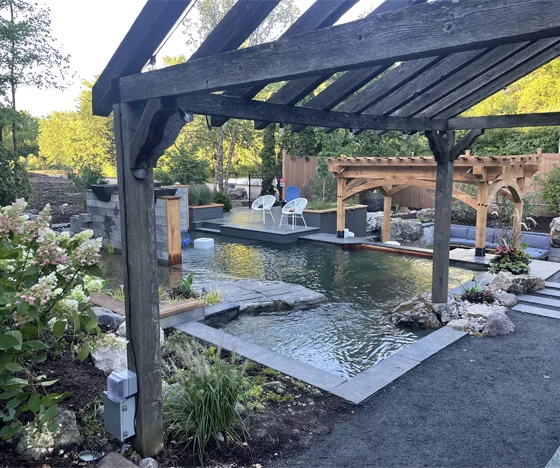 A Team Dedicated To
Bringing Your Dreams
To Life!
Certified Aquascape Contractor
100% Satisfaction Guarantee
Recreation & Swim Ponds Pricing
Invest in a beautiful outdoor space for your family. Create a place to gather with the people you love and make unforgettable memories.
*The price of your recreation pond is based on size, upgrades added, and the condition of your space. Get in contact with us to get an accurate cost for your unique project.
Our Process Is

Crafted


With You in Mind
Frequently Asked Questions
How do I maintain a recreation pond or swim pond?
To maintain a recreation pond or swim pond, you will need to:
Keep the water clean by skimming debris from the surface and using a pond filter to remove excess nutrients and contaminants.
Replace bacteria bags as needed (typically 2-4 times per season).
Can I use a swim pond as a natural swimming pool?
Yes, a swim pond can be used as a natural swimming pool. A swim pond is a type of pond that is designed specifically for swimming, with a shallow area for wading and a deeper area for diving and swimming. The water is typically treated with natural or chemical-free methods, such as UV light or ozone, to keep it clean and safe for swimming.
Why are recreation ponds so popular?
In addition to the visual interest they provide year-round, they are interactive and extremely low-maintenance.
What is the difference between a pond, a recreation/swim pond, and a natural swimming pool?
The main difference between a swim pond and a natural swimming pool is the filtration system used in each of these features.
How do I choose the right location for a swim pond or recreation pond?
When choosing the location for a swim pond or recreation pond, consider the following factors:
Size and layout of the area: Make sure you have enough space for the size of pond you want and that the layout is suitable for your intended use.
Soil conditions: The soil should be able to support the weight of the pond and the water it will contain.
Sun exposure: Consider the amount of sunlight the area receives, as this can affect the temperature and water quality of the pond.
Proximity to utilities: Make sure the pond is located near a water source and electrical outlet for ease of maintenance.
Landscaping: Consider the surrounding landscape and how the pond will fit in with the rest of the yard.
How do I keep the water in my pond clean?
To keep the water clean and safe all year, we recommend a super biofilter.
For homeowners wanting a big and luxurious water feature, add a custom pond to bring paradise into your backyard.
Design an oasis for your property to connect with nature and your loved ones.
​Pondless Waterfall Construction​
Enjoy the sounds of water in your backyard with a pondless waterfall.